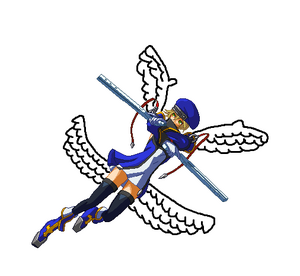 The Angel like Digimon derived from Noel Vermillion from Blazblue Series and Fan:Seraphimon Burst Mode. This Digimon protecets the Data and the Secrets Treasures of the Digital World from Lucemon (Frontier). This Digimon was a Member of Valkyriemon.
Human
Attribute
Edit
Vaccine
Ultimate
Next Forms
Edit
Prior Forms
Edit
Taichi Yagami
Special Attacks
Edit
Valkyrie Veil (Ame no Tusunami): Shoots the Mega Fire Power from the 2 Beam Rifles.
River of Kindness (Yamaten no Tsurugi): Shoots Feather Bullets from it's Wings.